Emotion is a powerful motivator.
Consider the iconic Superbowl ad where the Budweiser Clysdale races through city streets to reunite with the trainer who raised him. The ad touches the hearts of even the most stoic among us.
Or the Cheerio's box packaging themed "Made For Little Hands." For any parent, it recalls days of tiny sticky fingers and the overwhelming intensity of parental love. Again, our response is visceral and emotional.
The Budweiser ad never mentions any product attributes, while Cheerios cites the nutritional benefits of the product only as a post-script with the tagline "Learn more about the goodness inside."
Can you imagine if your client interactions were even half that intense? 
Selling with heart
So how do you connect on an emotional level? First, you must truly understand your customer. Deeper than pragmatic demographics like CPA in her 40s from a two-income household or urban-dwelling millennial software developer 2-3 years post-college, explore their "softer side" with these questions:
What are your customer's biggest worries?
What keeps him up at night?
What are her motivations, goals and dreams?
Envision yourself in your customer's shoes to gain empathy for their perspective. Then capitalize on that emotion to build a deeper, more authentic connection. Like the Budweiser and Cheerios brands, the goal is to relate on a more personal level.
The empathic approach – an example
Let's say you have a handyman business. You respond to an inquiry from a homeowner who is interested in replacing their front door. Rather than focusing on practical matters like the fact that the new front door increases the home's value and provides better curb appeal, consider the customer's emotional reasons for the new door.
Maybe the door's steel core fills a tiny part of the void left by the recent passing of their beloved and protective Labrador Retriever. Or the peephole diminishes — just a bit — their anxiety at leaving their pre-teen daughter home alone after school, despite a swath of house break-ins in town.
The customer's need is about security and peace of mind. It's about being able to sleep at night and to concentrate while at work, without being anxious about their daughter.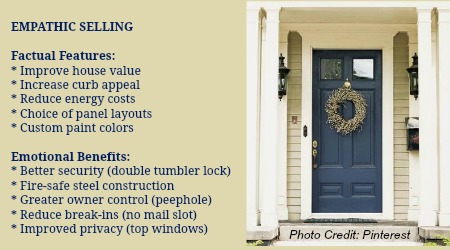 Tap into pain points; offer solutions, insights and wisdom
Create compelling content and capitalize on the need or challenge of your prospective client. Whether he is overwhelmed, frustrated or anxious about being ill-equipped to deal with the challenge he is facing, respond to his emotional concerns. Use language that captures the positive feeling he will have when his problem is capably addressed. Rather than listing your services, create (and nurture) a bond with your prospect by sharing how your product or service can fix their pain — and then follow through.
Utilize an empathic approach in both your personal interactions with customers and on your website, blog and marketing outreach. Need help? Contact us.