One Missing Step To Email Marketing Success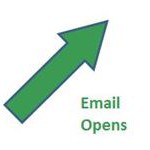 What would you say if I told you that you could increase your email open rates by 50% without a lot of additional effort?
If you're using email marketing as one of your lead generation techniques, you've probably invested resources on your platform of choice, such as Mail Chimp, HubSpot or Constant Contact. Whether you are disciplined about maintaining a regular cadence or struggle to publish occasionally, you probably (hopefully) follow a predictable series of steps in creating your marketing email:
Develop a template that echoes your brand
Wordsmith and refine to come up with the best subject lines
Include links to your website and active social media profiles
Research the optimal day and time to reach your target audience
Repurpose content from (or to) your blog
Proofread for spelling errors and format issues
Include social sharing links to enable readers to share
Preview and send test emails to verify link destinations
Most importantly, offer content that's useful, engaging and memorable
The above nine steps are important to successful email marketing. But there's one more that's often missed.
What is the key step that you probably aren't doing? Re-mail.
Haven't there been times (like daily, perhaps?!) that you delete an email because your in-box is overwhelming? One that you might be interested in reading — but just not right now? Most of us need an occasional reminder to attend to all the to-do's in our lives.
There's no rule that says you can't send the same email again to those who didn't open it.
One of the benefits of using an email marketing service is that the metrics include opens and non-opens. This nifty information is a primary reason you subscribe to an email marketing service. It provides an opportunity to reach those people who didn't open your email the first time because when the email arrived, it just wasn't a good time.
Don't annoy.
Before you embark on this new strategy, take a deep breath. Remember that you want to help, not irritate, your potential customers. While open rates tend to be highest on the first couple of days after mailing, it may take some recipients a week or more to open your email. Wait until your opens have dwindled and then consider re-mailing to subscribers who did not open the first time.
Remember to change the date on the email, and update any time-sensitive information to be sure the content is still relevant. Create a new list (we use the name of the original email, preceded by "non-opens") and consider testing a different time of day, day of the week, or subject line.
Our experience is that the open rate on re-mails is about half of that of the original email. There's very little additional effort involved, and if your results are similar to ours, you'll be reaching a lot more people with a little bit of effort.
Sound good? Let us know how your re-mail works out.