Facebook Newbie? How to Create a Business Facebook Page
While many business owners feel they should be using Facebook to promote their business, getting started can be intimidating. And with all that small business owners must accomplish on a daily basis, if something is hard it can keep getting pushed aside. At several recent workshops I conducted about using Facebook for business, participants asked for specifics regarding the steps in setting up a page. So newbies, let's make it easy. Here you are: a step-by-step guide to creating a business Facebook page.
You must have a personal page on Facebook to create a business page. You don't have to be active on your personal page; you simply need to have one. If you don't have a personal page, create it on www.Facebook.com – simply complete the fields under "Sign Up."
From your personal page, scroll to the bottom of the page (if you've been active on Facebook a while, this may take a few clicks), to the blue footer, and click on the option "Create a Page."

You'll have the option of choosing the type of page you wish to create. Most business pages are either "Local Business or Place" or "Company, Organization or Institution." Before selecting the type of page, consider whether you operate locally or virtually. A local business can include a link to a maps function showing your location. Look at the Facebook pages for businesses similar to yours to see how they've established their page. Click on the type of page you want to create.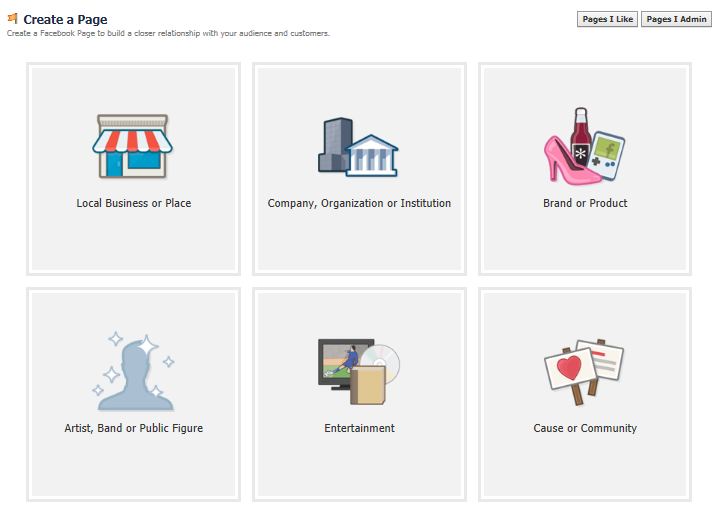 Once you click on your choice, you'll see the screen below (or a similar one if you've selected a "Company, Organization or Institution" page). Fill in the information thoughtfully. If you're unsure about how to complete a certain field such as category, open a new browser window and look at other business Facebook pages for ideas. Check the box to acknowledge that you agree to Facebook's terms, and then click "Get Started."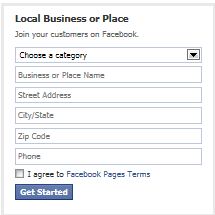 You'll be guided through a series of screens which ask for information. The profile picture should be your logo, if you have one. Facebook is fussy about the specifications for the image size of your profile picture. Their Help page offers this guidance: "Page profile pictures are square and display at 160×160 pixels. The photo you upload must be at least 180×180 pixels. Rectangular images will be cropped to fit a square."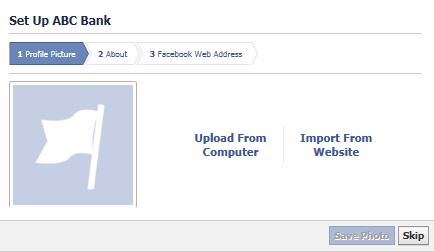 After you upload your profile picture, the next field is your bio, or About. The content of the "About" field is important because the information is searchable. Be specific and strategic in the words you use. Include a hyperlink to your website, beginning with http://www. The more information you provide, the more visible your page will be. As you build your page, you can skip any steps that you wish, and return later to add or edit information by clicking on the "Edit Page" link and walking through the "Update Info" screens (screen shot below).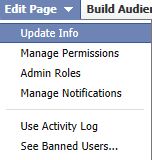 Once your page is created, it's important to post frequently and consistently, and to engage with those who have liked your page. See the blog posts below to learn how to use Facebook more effectively.
Tips for Using Facebook Strategically
5 Tips for Quick and Effective Social Media Posting 
Was this post helpful? If so, let us know in the comments so we can continue to meet your needs.