Removing Duplicate Profiles from LinkedIn – Our "How To" Series
How did I end up with two or more LinkedIn accounts? There are many ways it can happen: Perhaps you created an account using a nickname and can't find it when searching on your given name. Or after not using LinkedIn for a while, you can't recall your login password and figured it was quicker to create a new account. Maybe you don't remember creating an account and ended up creating a second (or third!) one without realizing that you already had a LinkedIn profile. Whatever caused the situation, removing duplicate accounts is a problem that can be solved in a few quick steps.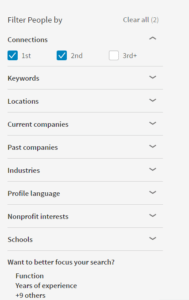 1) First, find all your accounts. Sign in to LinkedIn. In the Search box on the top left, choose the "People" item on the drop-down menu, type in your name, and click the search icon in the search box. You will be presented with a list of profiles with your name or similar names. If there are more than a few, use the search filters on the left side of the page to narrow the entries. A couple of ways to quickly narrow the entries is using the company and location filters, which should produce a much smaller list of profiles. In this list may be both your own (one, two or three) and others with similar names. The one you are currently logged into will show an icon with the word "YOU." Any other profiles that are yours are duplicates. Look over each of them and decide which one you want to retain.
2) Sign in to the account(s) you wish to delete. To delete the account(s) you want to remove, you need to sign in to those accounts. Often people use a non-primary email addresses to create profiles on social networks and don't remember which email address was used. If you don't have the login credentials (email address or password), click the appropriate link such as Forgot password?  or email LinkedIn Help and scroll to the bottom of the page for the Contact Us link in the page footer. Complete the form to explain that you need to remove your account and you don't recall the email address you used to set it up.


3. Close the duplicate LinkedIn accounts. Once you're signed in to the account you want to delete, go to Settings by clicking on the drop-down arrow next to your name on the top of the screen, above the navigation bar. Then click on the Account tab, scroll to the Subscriptions section and select the link called Closing your account. It can take several days for your account to be removed.

Please reply in the Comments and share your question for a future post in our "How to" series.