Click-To-Tweet: A How-To Post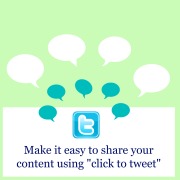 Do you struggle with getting your message heard?
With an endless supply of content out there, breaking through has indeed become more difficult. And engagement — getting others to pay attention long enough to explore an attached link, respond with a comment, or share your posts — let's just say that's not easy either. So just how do you get people to tune in to whatever it is you have to say in your blog, newsletter, tweet or social post?
Well, for starters, there's nothing more important than quality. Make sure your content is useful, timely, unique and succinct. Once you're confident that your posts offer real value, make it so easy for your audience to share your content that they simply can't afford to skip out on the opportunity.
How to do that, exactly? Read on …
Use available tools
Many platforms offer built-in tools. Be sure to make use of them to lead your audience to your desired action — sharing.
Email marketing: Email marketing platforms typically provide functionality to forward your emails through a simple "Forward to a friend" button. Always include it on your emails. Likewise, include social sharing icons within your emails.
Blog: A wide variety of plug-ins can help facilitate sharing of your blog posts through various social sites and platforms.
Website: Enable sharing of any page of your website with social sharing icons.

If your audience isn't social-savvy, it doesn't hurt to add a bit of explanation or context to explain the action you want taken, such as the phrase "Like this post? Share it via email or social media using the icons below."
Even easier … share with a single click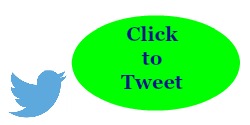 To make sharing supremely simple, we can even create a tweet and enable others to share it with a single click. If desired, the tweet can be edited prior to sharing.
This capability is enabled via functionality called "click to tweet." Click to tweet can be utilized in a number of platforms, such as Slide Share presentations or email newsletters. To create a click to tweet, you simply need a Twitter account and a tweet that you'd like to share. Then follow these simple steps.
Access the Click to Tweet application
Sign in with Twitter
Paste your tweet into the "Message you would like tweeted" box
Click the "Generate New Link" button
Sound good? It gets better.
With a WordPress plug-in, you can embed a click to tweet within a blog post or website page with a neat little visual like the one below.
Easy Peasy! Click-To-Tweet: A How-To #social #sharing post Click To Tweet
When a visitor clicks anywhere within the boxed tweet, the app launches a pre-formatted tweet within Twitter, with a link to the URL for the blog post and a tag referencing the author's Twitter account. The tweet may be easily shared as is, or edited by the author if desired. Try sharing the tweet above by clicking it — or share this post in your platform of choice using the social sharing buttons below.
Online Amplify provides content marketing support and blog frequently about social media. Please contact us about your needs.