Yes, I use Facebook for business — both my own and many clients. Facebook is the primary social platform for some clients because it's where their audience spends time online. We create events, engage socially, boost posts, run ads and leverage personal profiles and groups to increase visibility for their business page content.
Still, it can be painful. It seems that Facebook loves to mess with us, changing the search algorithms to minimize organic reach, modifying the functionality of business pages and generally making them more difficult and less effective to use.
At last – a nod to business Facebook pages
But joy! Last week I was happy to see some page design changes at Facebook that actually enhanced the usability (!) of Facebook business pages. User experience improvements on Facebook — at last!
Word on the street (thank you Mari Smith) is that these changes have been rolling out gradually by user. If you are an admin for multiple pages, when the changes roll out for you, you'll see the new format on all of your business pages.
What's new and different?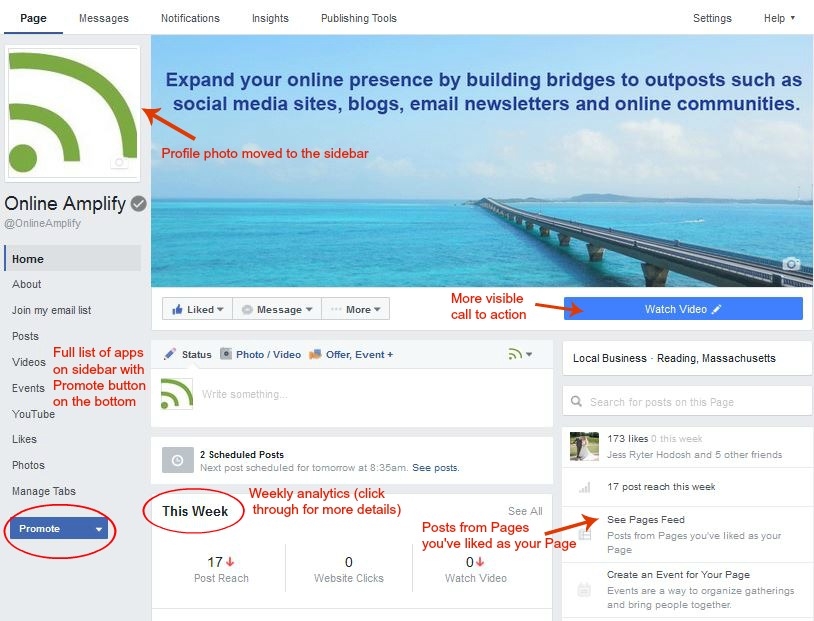 Modifications to the left sidebar provide some welcome design changes. The profile photo has been moved so that it no longer overlaps the cover image. A complete list of your apps (known as tabs) is shown vertically. There's even a Manage Tabs option which allows a page admin to easily rearrange the apps as desired without the limitations of the prior design. The Promote button for paid Facebook advertising has been moved to the bottom left position.
In the body of the page, the cover image is cleaner and appears larger without the profile photo. Beneath the cover image are several key actions to choose from — and on the right, your call to action button is larger and more visible.  Beneath any scheduled posts, above the news feed, is a snapshot of this week's analytics. Measuring your online effectiveness is key to informed use of platforms and marketing strategies; nonetheless, many users never even look at their analytics. Perhaps this teaser will encourage page owners to peruse their Facebook Insights and Publishing Tools (still accessible from the top of the profile, above the cover image) to assess the success of their Facebook marketing.
On the right sidebar, information has been grouped and highlighted in a more readable manner. When viewing your own pages, the top section features your page likes (with new likes for the week and friends who like your page). Below the likes, your weekly reach is provided with a hyperlink to more analytics data (yep, another link to analytics!).
The next field is See Pages Feed (posts from pages you've liked as your Page), which was hideously difficult to find in the prior business page design. Social media is social; to actively engage with others you must be able to easily navigate to their content. Facebook has dramatically improved the ease of doing so with this most recent update. Scrolling further, the next two sidebar fields are Create an Event and Invite friends to like this Page — both useful ways to increase visibility for your business Facebook page.
The next right sidebar section provides highlights of your bio or About section, a good reminder to page owners to maximize this valuable resource with well-crafted short and long descriptions.
Several Page Tips are shown beneath the About section on the right sidebar. A hyperlink to See All Page Tips offers more ways to use your business Facebook page more effectively.
Additional sections now found on the right sidebar are generally self-explanatory: Apps, Photos, Upcoming Events, and Visitor Posts. One key section is Liked By This Page, which is in the last position in the right sidebar. To engage strategically, a business page must access other relevant business pages.
The new page design extends to pages for which you do not serve as an admin as well. When viewing Pages for which you are not the admin, there are fewer sections and the overall design is even cleaner.
Facebook's recent round of design changes is a solid improvement which eases the navigability of the platform for business pages. If you're ready to raise the bar on using Facebook for your business, contact us. We're happy to help.