What's In A Font?
When you have roughly three seconds to convince a website visitor that your site is of value to them, everything matters. Big things — like ensuring your message comes through clearly and quickly. Little details — like and layout and readability. Lack of attention to these details can mean a poor user experience, leading to loss of a potential customer.
Your website is the online expression of your business, so you want it to create a positive impression and convey credibility. You've invested time and resources to craft messaging, create the perfect logo, locate images with the right feel, and refine your design, colors, and layout to appeal to your target user.
Choose font styles consistent with your business brand
Focus the same attention on your choice of fonts. Fonts can be formal or conservative, unconventional or playful. While your web designer should provide guidance and an informed opinion, be mindful that typeface details can reinforce — or conflict with — your intended messaging.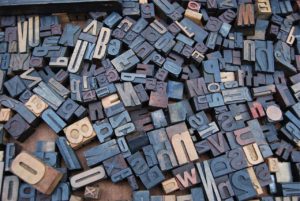 Use a font style that is consistent with your business brand. A conservative serif font such as Times New Roman is appropriate for a financial or insurance company, while a script font could be suitable for a bridal salon. An informal font such as Comic Sans is consistent with the brand for an organic granola company but not for a medical practice.
Readability and the user experience
Typography and design also impact the user experience. Web visitors scan, making vertical spacing and readability important factors to retain visitors on your site. Clean, non serif fonts are easiest to read on a screen, and dark fonts on light backgrounds provide the best contrast.
Size matters. Larger, bold fonts tell users and search engines that they are looking at headline copy and it's important. Utilize a typography hierarchy to convey the relative importance of the information on your site. In addition to size, font styles should be used thoughtfully to help guide the user:
Restrict use of underlined font to hyperlinks
Nested fonts indicate navigation path (example below)
Use color with intention — colors have meanings and evoke feelings in the visitor

If you update your own website through a content management system, be attentive to the font style when you edit copy, and be sure to maintain a consistent font family throughout the site.
Tip: Use standard fonts to ensure your pages are readable on any computer or device.
Stay tuned for future blog posts about other ways to optimize the user experience, or see our email newsletter archives.