One Missing Step To Email Marketing Success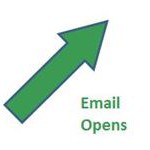 What would you say if I told you that you could increase your email open rates by 50% without a lot of additional effort?
Whether you are disciplined about maintaining a regular cadence or struggle to publish occasionally, you probably follow a predictable series of steps in creating your marketing email. But you may be missing a key one one.
This post has been updated for relevance and timeliness. See the refreshed post.