How To Request a LinkedIn Recommendation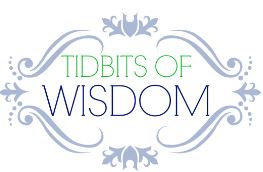 So you've taken the plunge and created a profile on LinkedIn. Good for you! (In no time, you'll be wondering why you waited so long.) Hopefully as part of the process to create your profile, you uploaded a good photo and crafted succinct, keyword-rich descriptions of your expertise, roles and experience. All elements of your profile contribute to convey authority and trust.
But without recommendations, your LinkedIn profile doesn't have the credibility it could.
Endorsements are not the same as recommendations
One of the less valuable features of LinkedIn, endorsements provide LinkedIn members the ability to certify others for a particular skill. The problem with endorsements is that anyone on LinkedIn — whether they know you or can truly assess whether you have a certain expertise — can provide an endorsement of your skills. The net result is an individual's profile can have myriad endorsed skills which essentially offer zero credibility.
Perhaps as a response to criticism, LinkedIn allows you to choose whether to post endorsements and where on your profile to display the skills/endorsement section — if at all.
In contrast with endorsements, recommendations are important to your credibility on LinkedIn and the process to request and post them is well-executed. They may be provided by a boss, subordinate, client, colleague or professor and are associated with a particular position on your profile.
As the recipient of a recommendation, you have the option whether or not to display the recommendation (you may also request an edit), but to maintain the integrity of the platform, you cannot edit it yourself. If you wish, you may recommend others without being asked, but minimize reciprocal recommendations.
Asking for your first recommendation
Unlike the days of old, when requesting a reference meant a multi-page typed letter signed and sent via postal mail by the recommending party, the process to recommend someone on LinkedIn is quick and nimble.
For your first recommendation, log into LinkedIn and access your Settings menu by clicking on your profile image on the top right corner of the header.
Scroll down to Privacy and Settings and click Manage (for security, LinkedIn requests your password again). On the right side, select the link to Manage your recommendations. For each role on your profile, there's a link to Ask for a recommendation. Upon clicking the link, a menu pops up to guide you through the recommendation request process. Out of respect for the person writing the recommendation, always personalize the default recommendation request email and provide some context for the recommendation, such as your particular role on a client project you worked on together.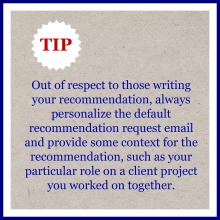 Once you have a recommendation on your profile, you can request additional recommendations by scrolling to the Recommendations section of your profile in edit mode. To request a recommendation, from the right margin, click the Ask to be recommended link to be guided through the simple process. Within the recommendations menu, you can see recommendations you've received, those you've given, as well as pending requests. You may also rearrange the sequence of your recommendations on your profile.
If you liked this post, please share it using the icons below, and consider these related posts: