Creating fresh and compelling content week after week, month after month, year after year can be a challenge, to say the least. An editorial calendar can facilitate the creative process by offering a structure which helps to maintain cadence. Content themes and topics are identified in advance, providing a jump-start to the writing process.
Still, it can take hours to craft an effective blog post, and how many people really see it? Well, that depends. By repurposing your content, you can create once and leverage, dramatically increasing the visibility of each article. Content marketing allows you to expand the reach of each content element while saving you time and resources.
From website to blog … or blog to website? 
An optimized website includes a robust About section in addition to well-crafted descriptions of the services you provide. Perhaps you also cite your expertise or share your credentials on a print brochure or in posts on social media. But is your prospective client finding your finely-tuned content? To maximize exposure, you need to be where your customers are. Content from your website Services, Resources or FAQ pages can be repurposed into blog posts — or vice versa.
Real-life example: Roman Music Therapy Services offers guidance about the use of music therapy for children with an IEP (Independent Education Plan) in a blog article as well as within the Frequently Asked Questions and Resources pages of their website.
Remember Show & Tell?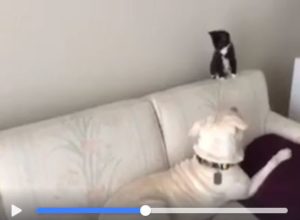 Illustrating visually is an engaging and effective way to convey information — and search engines love video content. You may have already created videos that you've posted to your social media accounts. Leverage them! Repurpose a video into a blog article by embedding or linking to the video within your post and adding informative or instructive content.
Or, try this new twist on the theme: Repurpose a text article into an informal "selfie" video by highlighting a few of the key points. Then share the video on all your social channels — making sure to include a link to the text blog post for the expanded version of the content.
Real-life example: Consider how this amusing video by pet trainer Bark n' Roll to could be leveraged to provide tips on mixing cats and dogs in your household. While still providing entertainment, an instructive blog post raises the bar and capitalizes on an opportunity to demonstrate knowledge and credibility.
There's power in numbers!
Any post that includes a series (such as tips, must-do's, items to consider …) can be repurposed into a slideshow that may be published on Slideshare. Within the application, each page has a unique URL, increasing your online footprint and enabling viewers to link to a specific slide.
And there's more … A series style post can (and should!) also be leveraged into individual posts, one for each item in the series. Using this approach on the smoothie article at right, each recipe is mentioned in the series post and hyperlinked to its own post where the recipe is expanded in full.
One last takeaway. It's not called the "web" for nothing. Drive new visibility for your previously published (yet related) content or blog posts by linking newer posts to them. Try to include three contextual or visual links within each blog post to related content or posts on your website.
Still not confident? Contact us. We work with clients in a coaching capacity, modelling behavior and guiding the process.