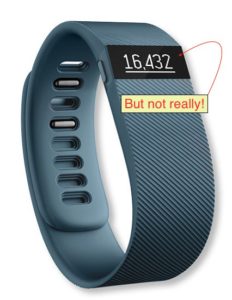 Do you track your daily activity using a FitBit or similar device? If so, there may be times when outlier activities — like a wobbling grocery cart — are counted as steps. You may have wondered about the extra activity, or perhaps you are guiltily aware while treating yourself to an extra dessert (since you did all those steps!). Obviously, the steps aren't valid and the inflated stats may actually be causing you to eat more.
The same principle can apply to your website visits, where there may also be extra steps which you didn't earn. Monitoring your analytics is key to measuring the effectiveness of your marketing efforts. But a cursory glance at the top-level stats (like the 16,432 steps) isn't enough.
Measure measure measure
Your website analytics provide hard data about which platforms are successfully driving website visits. This data is invaluable in informing your future marketing activity to use your resources effectively. In Google Analytics' Acquisition menu, select All Traffic, and then Source/Medium and Referrals. Within these categories, you'll see a list of the sites which referred visits to your website during the reporting period.
Pretty straightforward, little interpretation needed — this data shows you which platforms referred traffic as well as how long those visitors spent on your site, on average. Chances are, you'll recognize many of the referring sites — various social networking platforms, email newsletters, professional organizations, publications in your niche where you posted an online comment or post.
The sad but … more is not always better
More than likely, you'll notice referrals from sites that are unfamiliar. Some may be sending high numbers of referrals, and their average session duration is a few seconds at most. These are spam visits. Referrer spam corrupts your analytics data, making it difficult to identify your most effective marketing tactics and to determine which content is most appealing to your visitors. High numbers of spam referrals will inflate your overall visits, while causing your average visit duration (and pages/session) to decrease and your bounce rate to increase.
So while a quick glance at visits might inspire celebration, a deeper dive into the numbers will reveal that your analytics have a wobbly cart adding unearned steps to your stats.
Banish the spammers
Like the Fitbit steps credited by the spastic grocery cart, spam referrals shouldn't be counted. To restore the validity of your website analytics, you need to remove referral spammers from your data. To do so, first research sites that look fishy in your analytics.
To determine if a referral site is spam, simply perform an online search "what is" and add the referring site. The search results will offer pretty clear evidence of spam referrals. If you click through to spam referral sites, you'll notice redirects to unrelated websites, "special deals" and other attempts to collect more information from you. Don't be tempted by these offers.
Once you've determined that a referral is spam, you can create a filter to exclude the spam traffic data from your analytics. While a bit technical, the process (validated by Google Analytics) is pretty quick and easy. Steps are shown below.
How to create an exclude filter
On the top menu bar in Google Analytics, go to the Admin section.
You'll see three columns. Within View on the right side, select Filters.
Click on the +ADD FILTER button; a new menu will open. (You may need to modify your role within User Management if you don't have this option available).
In Filter Name, name the filter with the site you want to exclude.
For Filter Type, choose Custom and select the Exclude radio button.
In the Filter Field drop-down menu, select Campaign Source.
In the Filter Pattern drop-down, paste the domain (or site URL) that you want to exclude.
Test the impact of your filter with the Verify Filter button. If you are excluding a referral site with numerous visits over the past week, this step will allow you to see the impact removing the site has on your analytics.
Click Save in the blue box.
Repeat the above steps to exclude any spam referral sites that appeared in the top 20 referral sites over the past few months. Within the Admin tab, you'll be able to see a list of the sites you've excluded.
Need help understanding your analytics? We offer coaching to help you learn, or we can provide insightful reports so you can focus on other priorities. Contact us to learn more.