Mistakes happen. Whether you stress over them or take them in stride, it's important to avoid repeating the error. If you're a page admin for a business Facebook page, chances are you've liked, commented or shared a post as your Page when you intended to do so as yourself. Or perhaps you meant your Page to share an update from another business page, but somehow the share defaulted to your personal account. The process can be pretty convoluted — and frustrating.
If Facebook has proven a successful channel for your business, don't count it out just because it's complicated. As a page admin on a Facebook account, always double-check to confirm whether you're posting as yourself or your Page. Here's how: 
Participating as yourself (not as your Page)

Status update: Let's say you want to post as yourself on your business page. Go to your business page, and look on the right side of the "Write something" box (where you would post a status update). Find and click on the down arrow next to the avatar for your business page, to open the drop-down menu. From the choices presented, select your personal profile image. You are now posting as yourself.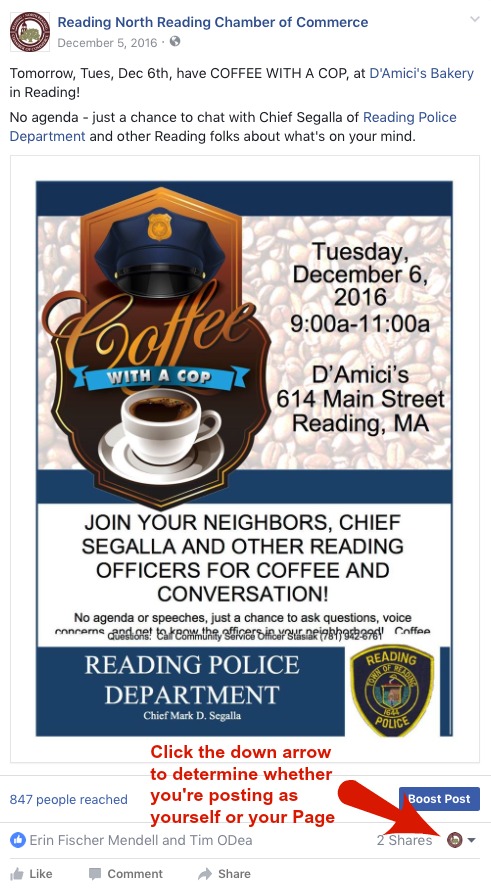 Comment, share or like as yourself: Select a post on your business page (or within your news feed) that you wish to share. Above the three choices for Like, Comment and Share, find your Page avatar. When you mouse over it, you'll notice a pop-up message that states whether you are posting as your Page or yourself. Follow the same process to change the icon from your business Page to your personal profile by clicking on the down arrow. Now your comment, like or share is associated with your personal profile. 
Starting to feel more in control?
The plot thickens … posting from your mobile
Generally, it's more complicated to toggle between yourself and your Page on a mobile device in order to engage with published content on Facebook. Ready? Pick up your phone and take a deep breath.
One effective way to leverage Facebook is to share posts from your Page as yourself. To do so, locate the desired post in one of two ways — either use the Search box to find posts from that Page, or scroll through your personal page news feed to find the post.
Look at the top of the post. On the left side is your page name and avatar. On the right side there's a down arrow which opens a menu of options, including one to save the post (on an Android, it's save the link). Select the option to Save post. (See the screenshot below left). The post will be added to your saved items (see the iPhone screenshot below middle).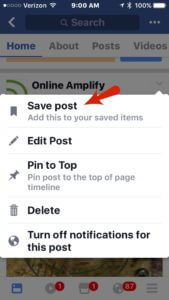 On your mobile device, saved links are accessible from the hamburger menu (series of horizontal lines) on the bottom right of your screen when in Facebook.
Touch to access the menu and scroll until you find Saved (with the blue icon and the little flag). If you have previously saved links, the number of saved links will be shown. Touch the arrow at right to view the links. The resulting view will look something like the screenshot at the right, below.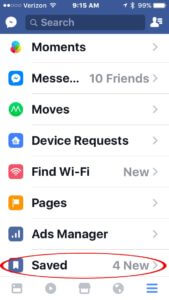 When you find the link you want to share, look for the three dots (on an Android they're lines) to the right side of the post. Touch the three dots and note the option to "Share in a new post."
When you click that option, you'll be sharing a post from the Page as yourself.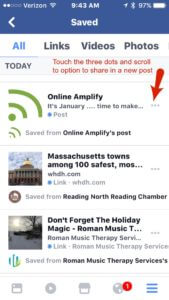 Cross-post to increase visibility
If you're not a habitual Facebook user, the process above may be overwhelming. Practice the steps a few times until they become natural. Particularly when cross-posting between personal and business accounts, Facebook can be a very effective marketing channel. But if you prefer to focus your attention elsewhere, contact us. We work with clients based on your preference – whether that means offering instruction, tools and expertise, enabling you to handle the items that come naturally — or managing all of your needs as an outsourced marketing department, or a combination.
If this information was helpful to you, see more of our how-to posts and sign up to receive our monthly email newsletter.