How-To: Using Twitter Search & Hashtags
"I just don't get it …"
It's a common sentiment when first starting out on Twitter. New users often rely on a review of their home feed to get a sense of what's being posted by the accounts they follow. Even if it's productive initially, this approach quickly gets unmanageable and inefficient.
Twitter can be a goldmine of valuable information. As we shared in our last post about using Twitter lists, platforms and tools are available to help users unearth information, influencers and insights.
Search.Twitter.com
Search and you will find. Using the search box in Twitter, or the command search.Twitter.com from your browser, enter a series of terms and you'll be presented with recent tweets with the included terms. You can then explore the profiles which authored those tweets and decide whether you are interested in following a particular user. By refining the way you search on a particular phrase, you can refine your search results.
Using the Twitter search box (logged in)
When logged in, search by typing the term or terms and clicking "enter." Your results page will include Top, Latest, People. Photos, Videos, News, Broadcasts. Each search option includes a variety of search filters such as from anyone, from people you follow, from anywhere, from near you. Advanced search allows you to further narrow your search. For example, you can search an exact phrase, specific accounts, or a certain date range.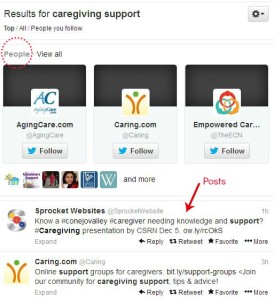 Using search.Twitter.com (not logged in)
Since you are not logged in, the filter to view content from People you follow is omitted from the results, but you are provided with both profiles and tweets containing one or all of the terms searched.
Save a search for later
If you have a search that you expect to use again, you can save it by logging into your account, entering the search in the search box and clicking on the three dots on the top right of the screen.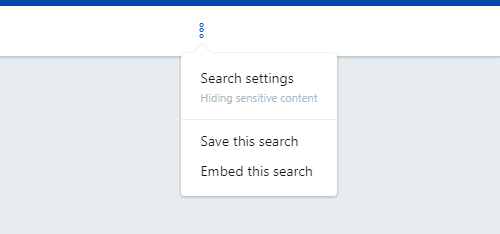 Revisit saved searches by clicking in the search box. Saved searches are accessible from the drop-down menu.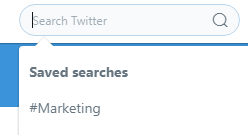 Hashtags
In addition to Twitter lists and searches, another way Twitter users categorize information around a particular topic (such as an event or area of interest) is through use of hashtags. Hashtags accomplish several goals:
They ease the process of searching for tweets about a topic
They refine the search results
They minimize characters required
A hashtag is a word or words (often abbreviated) prefaced by the # symbol and used within tweets about the topic of interest. An example of a hashtag might be #2017CMAs. This hashtag saves 17 characters over "2017 Country Music Awards." Hashtags can be used in combination, such as #entrepreneur #event, and may be slang or made-up terms such as #smallbiz or #shoplocal.
So how would you use hashtags? Let's say you're looking to attend a startup-related event in your area. Searching for #startup #event will display recent tweets containing both hashtagged terms, as well as profiles which contain either of the terms.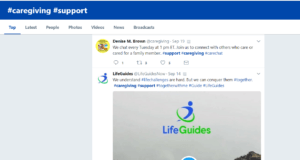 Use hashtags as part of your search (whether or not you're logged in) to narrow your tweets results to those which include the hashtagged terms. In the screen shot at right you can see that the tweets all contain the hashtagged terms #caregiver #support.
Use hashtags within your own tweets to help others find your content. A hashtag may be used at the end of a tweet or within the post to replace a word or phrase. You can see examples of each approach within the screenshot above.
Not sure which hashtags to use? Start with some searches of relevant terms and make note of hashtags used by influencers and leaders in your niche. Check out our #onlineamplifyhowto posts for tips.