Creating An Immediate Impact Online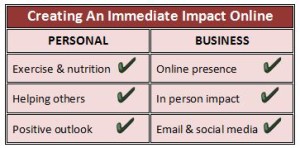 As the new year approaches we're encouraged to reflect on strategies for self-improvement, doing more good, having a positive outlook or creating a better impression. As business owners, we should be considering the same opportunities for our companies. Consider whether you are capitalizing on each of your business assets — including your website, email, and social profiles — to create a strong and immediate brand impact.
Take a look at your website. Does it reflect the products or services you most want to promote — or the ones that were important when you first launched your site?  Are you guiding the visitor to your key conversion goals? Is the content user-focused or confusing internal jargon? Are visitors able to accomplish what they came to your site for, quickly?
We've blogged frequently about the importance of website usability. The practice of usability — also known as user experience — involves making the experience of transacting with your business or product simple and intuitive for users. Creating a good user experience will keep visitors on your site, encourage them to return, and motivate them to tell others about your business.
In a recent post, we discussed the danger of using of "tech speak" (industry jargon), either within an in-person networking context or within a website or other written media. This common mistake made by business owners can transform a would-be client from intrigued to disenchanted. Using internally focused language, or "tech speak" on your website creates a poor user experience and motivates visitors to click away and look elsewhere.
The importance of creating a positive online presence applies in email, as well. Are you leveraging your website domain (www.YourCompany.com) with an email address that reinforces your brand? Does your email address create a professional impression — or does it come from "home?" Our colleague Belinda of RocketGirl Solutions offers sage advice regarding two common mistakes she sees in her work with clients.
Get a jump on improvements to your online presence for the new year. Contact us for help creating an immediate and ongoing brand impact.