Raising the Effectiveness Bar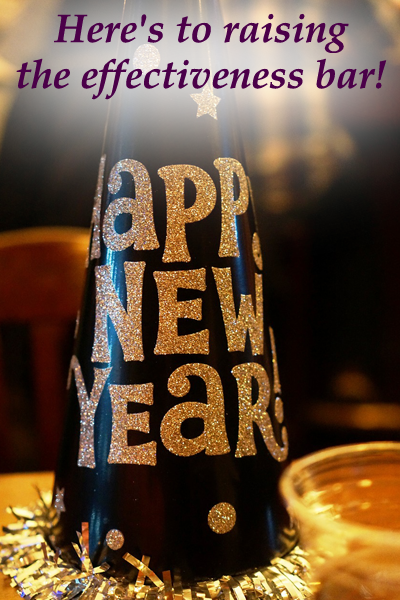 As we turn the page on the current year, we need to look back and forward at the same time: back to understand which tactics have been most effective in the past year, and forward to raise the bar on creative ways to leverage what we've learned to achieve even greater results in the new year. 
Seek and ye will find, as it's said. An abundance of content is available in a wide variety of places — websites, newsletters, blogs, social media, online forums — not to mention offline sources. What's tricky is streamlining the sorting process to find the kernels of information that are useful, informative and actionable. In reviewing our website analytics for this year, we identified the greatest number of views for articles providing strategic direction and practical advice on blogging, social media, and creating an improved website user experience. So we'll recap the highlights to offer you the opportunity to build on your successes and raise your effectiveness in the new year.
Blogging
Blogging is a commitment. Ongoing dedication is needed to maintain a consistent cadence and to craft original content that captures the attention of your audience. Not surprisingly, our blog articles from the past year that generated the most interest involved the discipline around getting started and keeping up with a blog. If your new year's resolutions for your business include starting a blog or amping up your blog's effectiveness, take a moment to review these posts from the past year offering strategies to generate blog content and using an editorial calendar to maintain blog cadence.
Social Media
During the past year, social media continued to permeate our daily life, with greater availability of mobile apps to enable us to remain connected anywhere and everywhere. As newbies stepped into the waters of social media, novices became more committed, and experienced users explored image-based applications including Instagram, Pinterest and Vine. Our analytics indicated the greatest interest in two major areas:
"How-to" blog posts which offered specific instructions for particular applications, such using Twitter lists and hashtags, removing a duplicate LinkedIn profile or inviting your Facebook friends to view your business Facebook page.

User Experience
With more time spent online, our tolerance for poorly designed sites diminishes. This year, information overload brought about an increased recognition of the importance of the website user experience. Intuitive website architecture, guided navigation and user-focused content are necessary components to retain website visitors.
We write often about the importance of user experience, to show credibility, offer useful and authoritative information, and to guide visitors to key conversion goals. In some of this year's most popular posts, we offered user experience guidance for your website, including specific posts about your About page, Contact page and online store.
As you reflect on your results from this year and your goals for the new year, is there a topic you wish we'd cover? Please share in the comments. Here's to raising the effectiveness bar!