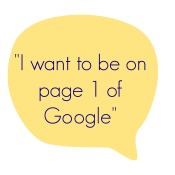 Getting on page 1 of search results is the goal of most businesses, but it's not a simple effort. The art of search engine optimization (SEO) involves many factors in a continually evolving mix. From inbound links to metatags, site traffic to authority, social engagement to keyword-rich content, the list is extensive.
The goal for search engines is to offer up the most relevant information to match the needs of a user conducting an online search. To meet their goal, search engines utilize algorithms to determine which sites appear on search engine results pages (SERPs). The search engine algorithms are constantly being tweaked, weighting one factor or another more significantly, in a quest to deliver the most relevant results for users. 
Keeping up in a shifting landscape
So if the search engine algorithms are continually changing, how can you ever expect to get your site to page 1 of the search results? We use a mix of SEO and user experience strategies to gain the attention of both search engines and potential customers. When Google decides to increase the impact of one factor or another in their search algorithm, it's best to have all the bases covered — and in the meantime, resonant and useful content engages prospective customers.
While relevant and well-written content is unquestionably the most important factor in convincing visitors of your credibility, users must find your website before they can read your extraordinarily compelling copy. No matter how unusual the search, a user conducting a semantic search (for example, "holistic veterinary care north of Boston") is presented with pages of search results. Your goal is two-fold: for prospective visitors to find the link to your site, and then be motivated to click on it. The content of your metatags can have a significant impact on whether users will click on your listing within the search engine results pages.
Where are the metatags anyway?
Each page of search results includes paid advertising (at the top and right sidebar), in addition to organic (or non-paid) results. Each organic listing includes three fields:
A descriptive hyperlink in blue underline
A url (or web address), beneath it in green font
A phrase or sentence describing the link

The descriptive hyperlink is called the title tag. Up to 70 characters long, the title tag specifies what the page is about. Beneath the title tag is the page url, or web address, that corresponds to the title tag. The third line of the listing is the description tag, which includes up to 150 characters to complement the title tag in describing the contents of the page. Along with keyword tags, these metatags should be included in the HTML code in the back-end of your website.
In scanning a page of search results, a user decides which listing to select based on a quick impression of the title tag and description tag. To appeal to both search engines and users, be sure they offer a compelling call to action and an accurate description of the page's contents.
Need help with your search engine optimization? Contact us.