In business and in sports, enduring success is the result of hard work and long-term commitment. On this Marathon Monday, learn from those who know how to go the distance.
Train for the long term
Marathoners don't successfully complete a 26 mile race with a fitness plan of two mile jogs around the neighborhood. They train with consistent and deliberate efforts, increasing their distance over time to lead to the desired end-result. Likewise, your marketing initiatives – including blogging, email marketing and social media – must be sustained, intentional and focused on your long term goals.
Invest in the right gear
While animal-print slip-on sneakers may be the hottest runway item, serious marathoners know that hot trends may not endure. They research the optimal gear to support their long journey. For marketing your business, that gear translates to tools that provide marketing intelligence, automate repeatable tasks and keep you on track.
Refine your technique
Distance runners understand that proper foot placement and correct stride can help avoid injuries and make or break their finish time. Using video and other training tools, they analyze their technique to maximize efficiency for the long haul. Likewise, your analytics can help to assess your most effective channels and content – allowing you to give your audience the content they're interested in, on the platform and in the format they prefer.
Cross-train for optimal fitness
While practice runs are a key training component for would-be marathoners, fitness experts advocate cross-training to build general fitness and avoid overuse injuries. Limiting your marketing outreach to a single platform or medium can result in audience fatigue. While we don't advocate trying to maintain a presence on every social platform, engaging in a new approach can energize your marketing and identify new prospects.
Visualize the win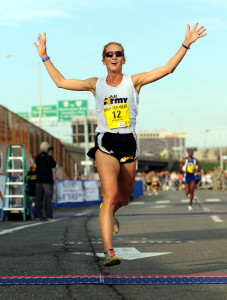 Olympic and pro athletes engage in visualization techniques to help actualize their goal of the perfect race. For your business, set specific goals and develop tactics to help you progress toward them. Then use your analytics to refine your techniques and move closer to making your goals them a reality.
Need help going the distance? Contact us for a free consultation.
This post was originally published in 2015 and has been updated for relevance and timeliness.