Maximizing LinkedIn Effectiveness: Not A One-Time Activity
In preparing for a workshop I'll be delivering this week on Conquering LinkedIn, I looked back at some website and social media metrics to see which of our blog and social media posts garnered the most views and engagement. Interestingly, one of the top posts was one I thought was a relatively obscure topic …Removing Duplicate Profiles On LinkedIn. It's evident from the popularity of this post that there are a lot of people who have tried to wade into the LinkedIn waters more than once … and perhaps ended up with a new profile each time. Consider taking a few minutes to remove the extraneous profile(s) with this post as a guide.
Another post that was highly viewed, not surprisingly, was 5 LinkedIn Tips to Create a Positive Online Impression. Both your profile bio and your interaction in any social or professional platform are contributors to your online presence. Note that two of the five tips in this article explicitly focus on the importance of personalized engagement. While LinkedIn offers the capability of communicating with large numbers of people at once, the most effective use of the platform is through authentic and targeted interaction with people in your network.
Maximizing the opportunity requires both the initial "build" and ongoing activity
Perhaps you want a LinkedIn profile simply to enable an online resume, but you find other platforms more effective for your business. Eyes wide open — while you're not capitalizing on the opportunity LinkedIn offers, so be it. Just keep your profile updated as you gain new skills or change responsibilities.
If, however, you recognize the value of using LinkedIn to grow your visibility, follow the initial creation of your profile with periodic ongoing activity. Take these three steps at a minimum:
1. Consider your profile. Over time, your specialties evolve or you take on new responsibilities. Be sure your profile accurately reflects your current roles and goals.
2. Build a habit of growing your LinkedIn network. Whenever you meet someone new in a professional setting, follow up with a personalized invitation to connect on LinkedIn.
3. Share frequently by updating your status, and be sure to add value. Unsure what to say? Consider the status update ideas below. Updating your status on a routine basis is a valuable way to keep your name top of mind within your network. Post updates that are relevant to your connections.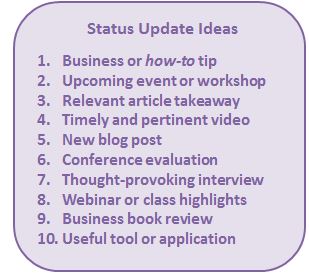 Why it's important, interesting or off the mark – add your two cents
Always add value. What specifically is interesting about an article? Why should someone bother to click on the link to the video you are sharing? Who is the person being interviewed and why should your connections care?
If you need more help to get engaged on LinkedIn, attend a workshop, download our LinkedIn how-to guide, or contact us.