Hands-On Learning: Upcoming Social Media Workshops
With last weekend's springlike weather, many of us in northern climates look forward to the end of winter, with longer days and less disruption from snow and ice storms. But as the second month of the year comes to a close, business owners are starting to get a sense of how the new year's results compare with our goals for 2014. And … perhaps starting to feel a bit of anxiety?
Now is the time to turn those vague goals of "getting more effective" and "learning social media" into concrete actions. Used effectively, social media can help you spread your message to reach target customers, influencers and strategic partners. 
Join us for a series of step-by-step social media workshops where we'll walk you through each platform, explaining how to set up a profile, what's important, how to use it strategically (including examples) and then reviewing specific steps to get you started.
Come to one workshop or all three … Reserve your spot, space is limited and these workshops filled to capacity last time they were offered.  Learn …
How to build your profile, section by section
Tips to highlight your visibility
Recommendations vs. endorsements
Balancing privacy and visibility
Using status updates and groups
Growing your network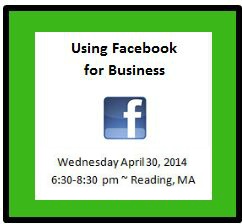 Business vs. personal profiles
Creating engagement
Using your news feed
Fans, friends, likes
Understanding Facebook Insights
Tips to maintain cadence
Anatomy of a profile
Hashtags, searches and lists
Tips and ideas for creating tweets
Self-promotion and engagement
Platforms to facilitate management
Measuring effectiveness
Sign up now to get started on using social media strategically to drive traffic and increase brand visibility. Please contact us if you'd like to arrange an on-site presentation at your company location or prefer one-on-one learning.