Let's do some show and tell. Do an online search for a topic that's covered on your website. Not your company name, but rather, a product or service that you offer, or something you've blogged about.
Do your website pages or blog posts appear on the search results pages? If yes (so far, so good!), how does the listing look to you? Is it a weirdly cryptic sentence fragment? The first few words of a blog article? Or (fingers crossed) a clear, articulate and compelling call to action?
Who controls those search results pages anyway?
Search engines use complex algorithms to determine which content to place on search results pages and in what sequence the listings appear. Because the goal of search engines is to provide results that best meet the needs of searchers, the various factors that make up those algorithms are continually evolving. The art of search engine optimization is to cover as many possible bases as possible, so that even as the search algorithms change, your website pages and posts get indexed and placed in search results.
Whether your content isn't appearing high up in the search results, or there is a listing but it doesn't convey the essence of the page content, you can make a difference with one (relatively) simple process change. By adding a SEO plug-in to your website, and completing the metatags fields for every page and every post, you'll:
(a) increase likelihood of appearing in the search results, and
(b) specify the exact phrasing for your search listing.
The nuts and bolts of SEO plug-ins
If you don't yet have an SEO plug-in on your site, you'll need to do a search and download one from WordPress. There are many options; explore the details and reviews of each one before downloading one to your site. Once downloaded, in the back end of your website (only), the plug-in will append a template that appears beneath each page or post. Generally, the template for any SEO plug-in includes three fields:
Title
Description
Keyword(s)
The title and description are the phrasing that appear in the search results pages along with the page link as shown below. If you don't complete the fields within an SEO plug-in, the search engine will typically pull the first 60-70 characters for the title tag and the first 150 or so for the description. While these phrases may be acceptable, more than likely they aren't the precise phrases you would choose to create a compelling call to action for your page or post.

Two SEO plug-ins
The screen shot below shows the SEO template for the page above using a plug-in called All in One SEO Pack.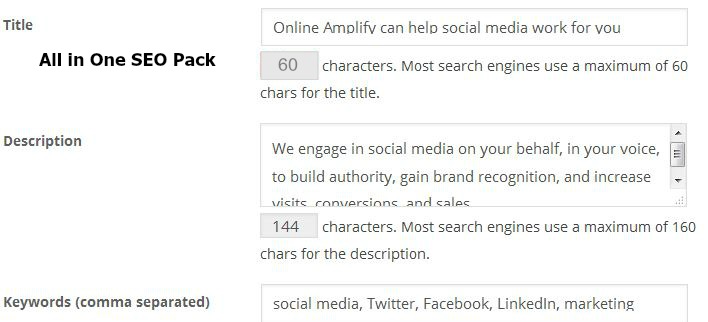 Another popular plug-in for SEO is Yoast SEO. This plug-in offers a content analysis which also addresses other ranking factors included in search algorithms. It's a bit more complicated to use but essentially provides real-time coaching feedback (in the form of red/yellow/green indicators in the content analysis) as you complete the fields for focus keyword, title and description tags.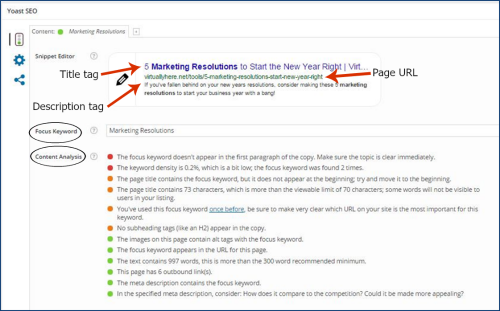 Whether you use All in One SEO, Yoast or another SEO plug-in, always complete the template fields as part of creating or editing page content.
The metatags (title, description and keyword tags) on each page should be unique and specific to that page.
Want to learn more about SEO? Take a look at these blog posts.