Conquering LinkedIn: A Hands-On Workshop
Whether you love it or hate it, professional networking is an important element of your business-building arsenal. And LinkedIn is the perfect platform to increase your credibility and enhance your visibility, both among people you've met and within your business niche. It's a great tool to help your sales team, customer service reps or other support staff grow visibility for your business. Are you using LinkedIn strategically? 
Start

with a strong profile that accurately reflects your experience and the skills you bring to the table.
As your business and your focus evolve, maintain your profile to keep it current and visible to your network.
Capitalize on LinkedIn's many ways to  grow your visibility and deepen relationships with potential partners and prospects.
Once you're comfortable with it, LinkedIn is a powerful online platform that's easy to use. It includes a robust help function (we've also offered tips in past posts). But it's common to create a bare-bones profile and rarely revisit it. Sound familiar?
We're offering a hands-on workshop to help you create a robust profile and get acclimated to the platform. We will review each section of your personal and company LinkedIn profiles, demonstrating how to edit and providing tips for best practices to highlight your online visibility. After each section is reviewed, you will work independently to add content to your profile. We'll cover a wide range of topics including use of status updates, groups, recommendations, skills, adding connections, privacy settings and strategies to grow your network.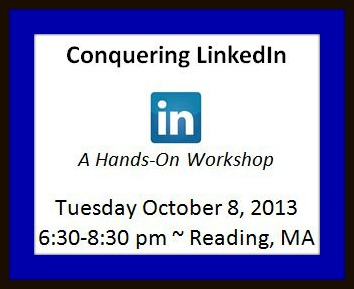 Join us!
Tuesday October 8, 2013 6:30-8:30 pm Reading, MA
If you're ready to tackle LinkedIn but can't attend this workshop, we can bring the workshop to you. Contact us.